Wide range of website content updates you - an individual or business owner - actually need to do each month to keep your website in shape.
Integrate website extras and add-ons, enhancing your website's functionality and making it more interactive and engaging for your online visitors.
After hours web services, general maintenance and various IT Managed Solutions are offered and available to our customers on a 24/7 basis.
Send us your request so that we can better understand and evaluate your requirements and needs and suggest the best route to take regarding your enquiry.
Website Content Updates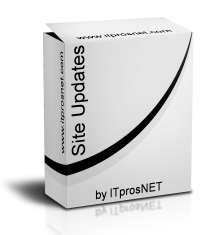 Website Content Updates
ITprosNET.com provides a wide range of website content updates. Below is a list, by no means limited, of website related work that you - an individual or business owner - actually need to do each month to keep your website in shape and updated:
Website content updates
Product updates for e-Commerce sites
Formatting / uploading your blog post
Uploading the podcast of your radio broadcast
Uploading videos of your involvement in community or business seminars
Managing your media section
Maintaining / managing and setting up your newsletter
Updating coupon offers
Identifying pages on which you would like to add facebook like pages or other pages where you think social bookmarking tags and icons should be
Login into the CMS of your website to edit the typo you found the other day!
We are sure you could add more to the list. In a normal month such work would require approximately 3-5 hours and you would probably skip it because they are not on your priority list. ITprosNET.com is here to help! Search Engines are always looking for FRESH CONTENT! Do not let the competition overtake you! All you need to do is send us your requirements via e-mail and we will take care of it thereafter.
If you want to know more you can fill-in our service request form here or contact us directly at support@itprosnet.com. You can track the status of your job request and all progress of your project can be seen LIVE! online on our client service centre.
Beautiful Designs
Beautifully designed templates to give your site a stunning and unique look with incredible functionality.
Awesome Features
Visually rich website design with seamlessly integrated interactive and animated page elements and features.
Results-oriented!
As a full-fledged digital agency, we are focused on getting real business results for individuals and firms from their digital presence.
Detailed Quotes
We provide you with highly-detailed web design proposals. You won't find anything like them. At our web design agency, we've created proprietary software specifically for this purpose.
Client Portal
You are given access to our LIVE and modern interactive client portal where you can track all information regarding your project. It's all there to keep everyone organized.
Our Promise
You will have control over the final project cost and scope and we will be honest and tell you if we think it's a good fit or not. We live by honesty, transparency and integrity!