Wide range of website content updates you - an individual or business owner - actually need to do each month to keep your website in shape.
Integrate website extras and add-ons, enhancing your website's functionality and making it more interactive and engaging for your online visitors.
After hours web services, general maintenance and various IT Managed Solutions are offered and available to our customers on a 24/7 basis.
Send us your request so that we can better understand and evaluate your requirements and needs and suggest the best route to take regarding your enquiry.
After Hours Web Services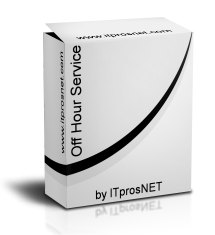 After Hours Web Services
ITprosNET.com | After Hours Web Services and IT Managed Solutions
What you should know! Work performed outside of regular business hours.
ITprosNET.com operate and offer its services on a 24/7 basis, supporting individuals and businesses all over Cyprus and abroad.
After hours web services, general maintenance services and various IT managed Solutions are offered and available after hours, for customers who require work done at a specific time/day that falls outside our standard operating times.
Please note that premium rates and other surcharges might apply to after hours services.
For an estimate of what your task or project might cost, please feel free to request a service quote by clicking here or contact directly our technical support department with your requirements - support@itprosnet.com.
Detailed Quotes
We provide you with highly-detailed web design proposals. You won't find anything like them. At our web design agency, we've created proprietary software specifically for this purpose.
Client Portal
You are given access to our LIVE and modern interactive client portal where you can track all information regarding your project. It's all there to keep everyone organized.
Our Promise
You will have control over the final project cost and scope and we will be honest and tell you if we think it's a good fit or not. We live by honesty, transparency and integrity!