Our Graphic Design process is simple yet effective, providing the best experience for our customers. Click the link below to find out more.
Logo design is just one of the many graphic design services we provide to an individual or firm that is looking to make an impression on the marketplace.
Are you looking for an innovative way to highlight your products or services? An e-Brochure design might be just what you need!
Our e-Postcard design and distribution service is a great way to give someone the 'digital greeting' you want, without the hassle of sending regular greeting cards.
An e-Catalogue design is an innovative digital medium in which text, images, links etc. may be placed within a file that can be distributed by e-mail and other means.
Our e-Flyer graphic design service proves to be one of the most successful ways in marketing your products and services to potential or existing customers.
e-Newsletters are newsletters sent by e-mail and are the best way to build relationships with your customers, prospects or members.
One of the most popular forms of online advertising is web banner advertising. A web banner (graphic image) and link are displayed on a high traffic website...
Corporate and Brand Identity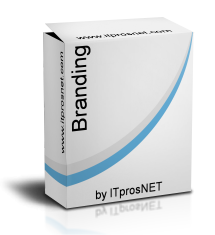 Corporate and Brand Identity
Corporate and Brand Identity, Product Branding and Graphic Design
A strong corporate and brand identity reinforces brand recognition among your target audience. Why should you choose ITprosNET.com for designing your corporate identity? Because our team of professional graphic designers and marketing experts helps you build a powerful and recognizable corporate identity that gives uniqueness to your company.
Eventually, this will give you an enormous advantage over your competitors. It is proven that a company that has a consistent corporate identity is taken much more seriously than those that don't.
ITprosNET.com offer corporate identity packages including logo design, e-business cards, e-brochures, e-catalogues etc. We also specialize in e-newsletters, e-posters etc. With our help, we can guarantee you will obtain the professional results you want.
For more information regarding our corporate identity packages, please send your requirements to support@itprosnet.com and we will guide and advise you accordingly.
What is Brand Identity
Brand identity is probably the most critical element of retail and business design. As graphic design professionals, it is imperative that we offer the best brand building services. Brand identity is the overall graphic representation that people associate with a company or product. In today's market, competition for customers is very hard, so having a strong brand identity is essential for companies. Business owners rely on design professionals, like ITprosNET.com, to invest time into researching, defining, and ultimately building a brand that people can trust! A proper brand identity is the foundation of your advertising campaign.
'A strong brand builds relevance, credibility and establishes trust!'
What About Product Branding?
With millions of products in the marketplace all claiming to be the best value for the money and each having its own brand values, how can your product stand out among the rest? The answer is powerful product branding. Every product or service created, modified or revitalized today faces this question. And every year, new powerful brands emerge in the marketplace to capture strong sales and customer loyalty.
'We build your brand that people can trust!'
Building a Strong Brand
Many designers throw the term branding around without a true understanding of what that term means or how effective branding is accomplished. A strong brand builds relevance, credibility and establishes trust. A strong brand speaks to your target market and motivates customers to act. When done correctly it establishes the company or product as an industry leader. We take the time to ask the right questions and do the necessary research to answer these questions in order to create a solid foundation and plan to map out targeted and meaningful branding programs.
'You capture strong sales and customer loyalty!'
Questions to Ask Yourself
If you're thinking about starting a new company or launching a new product ask yourself a few questions. What are my product brands associated with? What images do people associate with my products in their advertising? If you don't have answers to these questions then let ITprosNET.com help you answer the questions that will make your product or corporate branding a success.
Finally, ITprosNET.com's corporate identity and product branding development processes and procedures revolve around, but not limited to, the selective combination of the following:
Graphic Design / Corporate Identity / Product Branding
Logo Design

Business Card Design

Envelope Design

Poster Design

e-Brochures
e-Postcards
e-Catalogues
e-Flyers
e-Newsletters and Templates
Banner Advertisements
Video Productions

Online Presentations
Beautiful Designs
Beautifully designed templates to give your site a stunning and unique look with incredible functionality.
Awesome Features
Visually rich website design with seamlessly integrated interactive and animated page elements and features.
Results-oriented!
As a full-fledged digital agency, we are focused on getting real business results for individuals and firms from their digital presence.
Detailed Quotes
We provide you with highly-detailed web design proposals. You won't find anything like them. At our web design agency, we've created proprietary software specifically for this purpose.
Client Portal
You are given access to our LIVE and modern interactive client portal where you can track all information regarding your project. It's all there to keep everyone organized.
Our Promise
You will have control over the final project cost and scope and we will be honest and tell you if we think it's a good fit or not. We live by honesty, transparency and integrity!