Wide range of website content updates you - an individual or business owner - actually need to do each month to keep your website in shape.
Integrate website extras and add-ons, enhancing your website's functionality and making it more interactive and engaging for your online visitors.
After hours web services, general maintenance and various IT Managed Solutions are offered and available to our customers on a 24/7 basis.
Send us your request so that we can better understand and evaluate your requirements and needs and suggest the best route to take regarding your enquiry.
Website ADD-ON Modules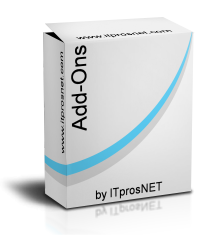 Website Add-ons
Custom Website Add-ons and Small Applications
ITprosNET.com offer a wide range of custom website add-ons and small applications to address all unique needs and requirements of any individual or company. For your reference, a few common website add-ons to enrich the functionality of your website and give you an edge over your competitors are listed below.
Should you require more information regarding any of these website add-ons please do not hesitate to contact us.
Ads & Affiliates Management
Instant Messaging Platforms
Polls, Surveys & Statistics
User Management & Memberships
Documents & File Management
Photo Gallery Management
Thematic Directories
Payment Systems, Invoicing & Billing
Auctions & Discount Coupons
Calendars & Events Management
Clients & Communities
Chat Room Platforms
Beautiful Designs
Beautifully designed templates to give your site a stunning and unique look with incredible functionality.
Awesome Features
Visually rich website design with seamlessly integrated interactive and animated page elements and features.
Results-oriented!
As a full-fledged digital agency, we are focused on getting real business results for individuals and firms from their digital presence.
Detailed Quotes
We provide you with highly-detailed web design proposals. You won't find anything like them. At our web design agency, we've created proprietary software specifically for this purpose.
Client Portal
You are given access to our LIVE and modern interactive client portal where you can track all information regarding your project. It's all there to keep everyone organized.
Our Promise
You will have control over the final project cost and scope and we will be honest and tell you if we think it's a good fit or not. We live by honesty, transparency and integrity!