IT Managed Services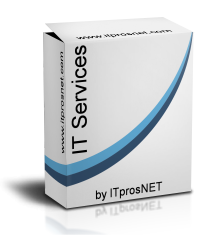 IT Managed Services
IT Managed Services - We Support Companies AND Individuals!
ITprosNET.com offer on a 24/7 basis, an extensive list (see below) of IT Managed Services targeting companies and individuals in Cyprus and Abroad!
Do you worry about keeping up with every aspect of your business technology? In today's business environment, security threats and IT support challenges can cause your business to fall behind the competition. With IT managed services from ITprosNET.com you can end the cycle of "broken" technology with pro-active management, monitoring, and IT support of all your technology in place.
Choosing ITprosNET.com for all your IT needs let you:
Rest Assured - knowing your data and network are safe and protected!

Accomplish More – with IT that simplifies and builds upon your current business processes!
Become More Profitable – less downtime means more work time!

Expect Consistent Costs – with flat-rate IT support and computer repairs and service!
ITprosNET.com is dedicated to providing you with the most COST-EFFECTIVE and TAILORED technology solutions for your business requirements and individual needs!
IT Managed Services | Why Choose Us
Computer Sales and Repairs
Software and Hardware Support
Advanced Networking and Security
Network Automations
Advanced Server Implementations
1-Click Data Recovery Services
Disaster Recovery Policy Design
24/7 Service and Remote Support
Content Management Systems
CRM Systems
ERP Systems and SharePoint Services
Accounting Systems
VPNs, VLANs and Wi-Fi Network Designs
Office Branch Bridging Services
Remote Work Implementations
IT Consulting Services and Training
Intrusion Detection and Prevention
'Smart Systems' saving you hundreds
Detailed Quotes
We provide you with highly-detailed web design proposals. You won't find anything like them. At our web design agency, we've created proprietary software specifically for this purpose.
Client Portal
You are given access to our LIVE and modern interactive client portal where you can track all information regarding your project. It's all there to keep everyone organized.
Our Promise
You will have control over the final project cost and scope and we will be honest and tell you if we think it's a good fit or not. We live by honesty, transparency and integrity!